4 hours from 18:00 -22:00h

Come with us on a journey full of:
Dance

Self-awareness

Feeling

Partner exercises

Exchange

Bodywork
In this workshop you can get to know the DBD method and experience it intensively. This workshop gives you an insight into what you can expect in the 8-week Level 1 course.
There is no previous knowledge and no dance partner necessary.
Tools that we use are:
relaxation – yoga exercises – strength training – stretching – fascia training – breathing exercises – meditation – isolation – partner exercises – Zouk elements – musicality
Prices:
50€ (students 40€)
Address: Eutopia, Thomas-Mann-Str. 36, 53111 Bonn
inner goddess workshop 08.08.2020
This workshop is for women only.
Come with me on a journey full of:
Breathing exercises
Bodywork
Movement meditation
sacred dance
taoist and tantric meditation
Development of the female consciousness
In this workshop we sensitize and open our body to feel more joy and pleasure. We will deal with how we can evoke feelings of ecstasy on different levels in the body. 
We open portals / channels through which we experience a deeper and more subtle body awareness and enter an inner place where there is no goal and no time.
It is time to get to know and cultivate the magic of our female body :).
Through my travels and my passion to get to know myself on different levels, I have learned to feel myself anew in movement and in my body. I would like to share these experiences and insights with you.
Within every woman there is a wild and natural creature, a powerful force, filled with good instincts, passionate creativity, and ageless knowing. Her name is Wild Woman.
I love her
I look forward to a magical day with you 
Heloisa
Prices:
08.08.2020.: 50€ (students 40€)
Address: Eutopia, Thomas-Mann-Str. 36, 53111 Bonn
2-days intensive dbd workshop 21. & 22.11.2020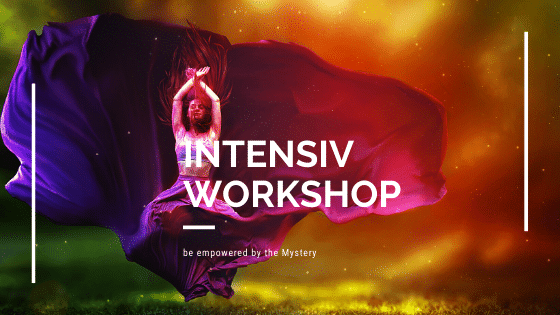 2-days DBD intensive Workshop in Bonn
SA & SU 21-22.11.2020
Deepen and explore your connection!
Your ability to connect with others depends on how well you can connect with yourself. This includes how much you can feel and perceive yourself, as well as self-acceptance and self-love.
If you want to cultivate conscious encounters and experience more depth in interpersonal relationships, you've come to the right place!
Through our experiences with the Dance between Dimensions and Be Wild courses and through our intensive examination of body and mind, we have decided to combine both course contents. This gives you a unique and transforming opportunity to deal intensively with yourself and your world of perception and then to consciously connect with other people on new levels.
Structure:
Day 1: 21.11. from 11:00-18:00h
The first day is all about connecting with the yourself. You will do this through movement, dance, bodywork, Taoist practices, meditation and energetic work.
Day 2: 22.11. from 11:00-18:00h
On the second day we will talk about the connection to others or to the dance partner. Here you will learn how to build up and intensify connections to other people. We will give you tools how to experience different connection states. These are e.g. physical exercises, touch, massage, breathing, conscious partner exercises, dance, leading/following.
You can also use these methods to improve your relationship with other people beyond dancing.
Afterwards we will have a DBD dance party until 0:00 🙂
It will be a very special adventure for you. We will compress all our knowledge into these two days so that you can have the most transformative self-awareness process possible.
Everything we do is about raising our own vibration frequency so that we carry more light and love into the world and connect at a heart level.
At DBD we focus on experiencing different dimensions with your consciousness while dancing. For this a connection with yourself is essential and even if you have done many courses with us, it is always a different and new experience to work so intensively on a weekend.
No previous knowledge or dance partner are necessary.
Where: Thomas-Mann-Strasse 36, Bonn
Price: 90 € (student 70 €)