"She is a wild, tangled forest with temples and treasures concealed within"
Do you want to connect more with your feminine power and intuition?
Do you want to shine even more and live more confidently in your body?
This retreat is an opportunity to connect with your wild, divine, feminine essence. The female body, the female essence is so complex, so rich in sensations, so indescribably magical. 
Dance
Self love and acceptance
coming from the head into the body
activate sexual life energy
Diving into your feminine energy
Healing bodywork
Releasing old conditioning and emotional baggage
Heart connections
Initiation into your feminine and divine essence
Empowerment
Vision work
Deep connection to yourself and your essence
New experiences and body sensations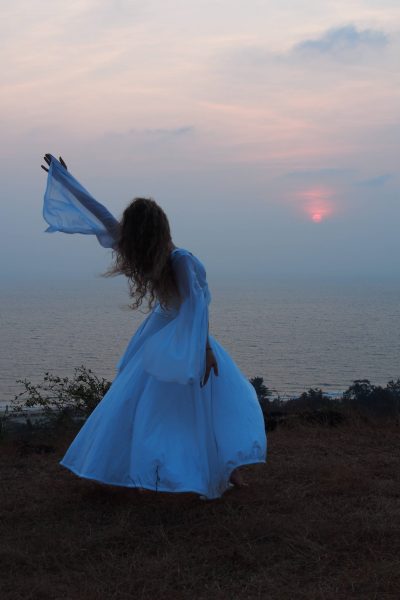 For whom is this retreat?
It is for all women who:
want to feel a deep connection with themselves and their body
are open for unconventional tools
want to dive into and experience the feminine energy
are ready to look at their issues and feel all emotions
Want to experience real transformation and be ready to go "all in
Want to live the best version of themselves
want more fullness and lightness in life
like physical and sport activities 
want to experience a magical sisterhood among women
We invite you to experience your body in a new way. To dive into deeper layers of your being, where there are no limits and you can discover yourself anew.
You will let go of the old and process emotions. You will lovingly and powerfully dissolve feelings, conditioning and limitations so that you can feel and live more and more your inner essence, your truth. You will strengthen your trust in yourself and get a better access to your intuition. So that you feel yourself better, love yourself and stand up for yourself.
You will learn to sensitize your body and to open it for pleasure. So that you can feel a whole new range of sensations in your body. We also activate and cultivate sexual energy, our life force – and direct it towards what you want in your life. When we feel and experience ourselves as women again, an incredibly powerful energy is released – and you experience synchronicities and magical encounters.
We used a mixture of different tools, such as movement practices, bodywork, dance, coaching tools, process work, modern psychology, emotional release, Daoist and yogic influences, energetic methods, meditation and much more.
Get inspired and dive deeper into your feminine energy with us!
21-23. April 2023 in Freiburg
08-10. September 2023 in Bonn
Schedule:
Friday 20:00
Saturday 10:00 – 22:00
Preise:
299 Euro
Location Bonn:
Wilhelmstraße 27, 53111 Bonn
Board and lodging:
Optionally you can book catering (vegan/vegetarian lunch and dinner on Saturday and Sunday) for an extra charge of 60 Euro (cash).
We recommend you to book the catering as well, so that we can connect and exchange together at the lunch and dinner table, and you don't have to leave the container we create.
If you are coming from further away, there are many possibilities to stay in hotels and hostels or Airbnb.
Heloisa
My desire for self-efficacy has always been very strong. The decision to accompany this project came directly from my heart. My contribution to this world is to provide joie de vivre, intensity, pleasure, and lightness through moving in pairs. Further development and experiencing different states of consciousness are my passion. Together with Melissa I have therefore founded a bodywork and consciousness school. I regularly teach different people and bring them closer to their own truthfulness in a creative way.

Melissa
As a psychologist and coach I love to accompany deep transformative processes. Through my knowledge of inner work, bodywork and dance, I support people in coming into feeling and releasing deep-seated blockages so that life energy can flow again and they can live their essence more and more. I very much enjoy the magic and healing that happens in high vibrational spaces – and I am very much looking forward to that.