Connection Training
Zouk & Kizomba
Experience real flow and deep connection in your dance

10 -12 May 2024 in Bonn
connection training benefits

3 days training with embodiment, conscious connections, Brazilian Zouk & Kizomba

That moment when you feel really fulfilled after dancing, you know it? Do you want more of that? Do you want to feel more flow and connection in your dancing?
Whether it's Zouk, Kizomba, Bachata, Salsa or dancing on your own, this workshop will help you make the flow not only come spontaneously, but you will learn specific methods to bring you into the flow and strengthen the connection with yourself and your dance partner.
Dancing without connection can be very frustrating and feel "empty". In our workshop you will learn to cultivate conscious encounters in dance, train yourself in conscious touch and feel how you can positively influence your dance through your inner attitude.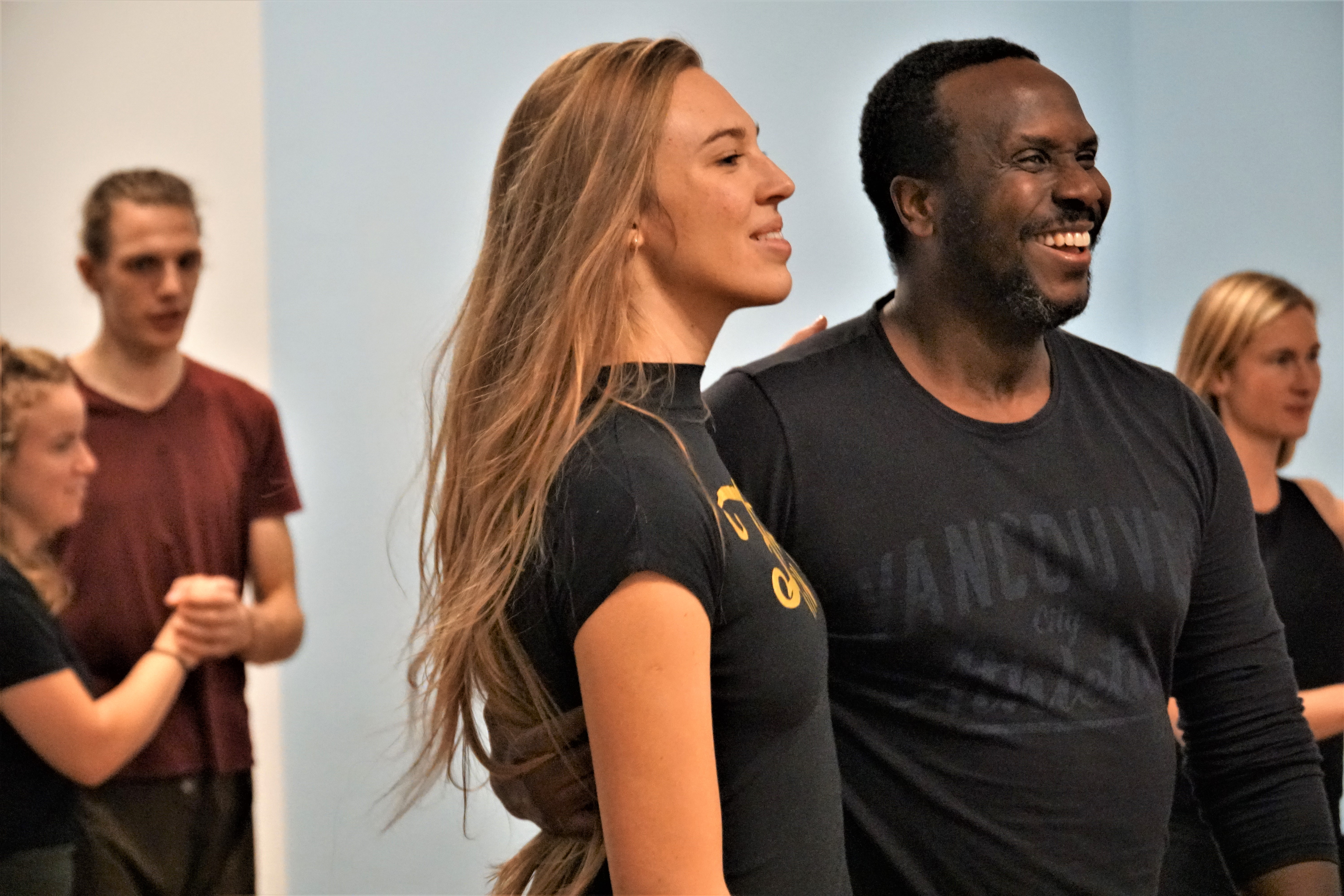 Your ability to connect with others depends on how well you can connect with yourself. This includes how much you can feel and perceive yourself, as well as self-acceptance and self-love.​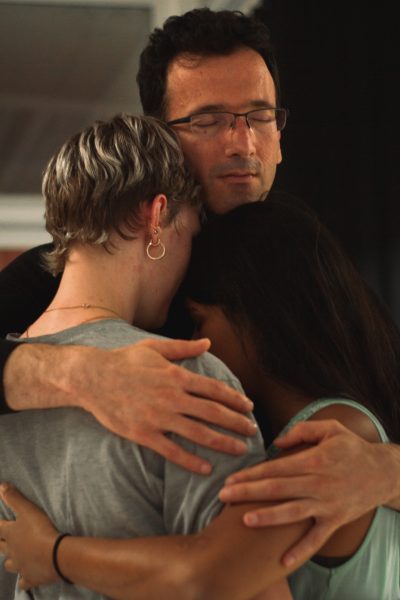 Experience real aliveness and connection
This training is very enriching for all who dance couple dances, but also very valuable without previous couple dance experience. No dance partner is necessary, we rotate through.
You can also make great use of all the methods to improve your relationship with other people beyond dancing.
Connection Training will bring you fully into your body and into connection with yourself. From there, we will show you effective connection tools to experience a fulfilling connection with others.
Friday and Saturday evenings there will be Zouk & Kizomba dance parties with previous workshops for beginners + intermediate/advanced.
Next date:
10-12 May 2024 in Bonn
Friday: 
19:00 Beginner Zouk Workshop with Marcello
20:30 Connection Workshop with Elo & Melissa
22:00-2:00 Zouk & Kizomba Mixed Party
Saturday: 
11:00-18:00h Connection Training 
On the first day we will focus first on the connection to yourself. You will learn this mainly through movement, dance, bodywork, partner exercises, Taoist practices, meditation and energetic work. 
20:00 – 22:00 Zouk & Kizomba Workshops with Judith, Marcello & Shah
22:00-3:00 Zouk & Kizomba Party on 2 dance floors
Sunday:
11:00-18:00h Connection Training
On the second day we will deepen the connection to yourself and others, so you connect in a conscious and heart opening way. We will give you tools to experience different states of connection. These are e.g. body exercises, touch, massage, breathing, mindful partner exercises, dance, leading/following.
Bodywork
Breathing
meditation
Mindfulness Exercises
Embodiment Tools
Conscious touch
dance
Brazilian Zouk Elements
Emotional Release
Elo
My desire for self-efficacy has always been very strong. The decision to launch this project came directly from my heart. My contribution to this world is to provide joy, intensity, fun and ease through movement. Developing and experiencing different states of consciousness are my passion. Together with Melissa I have therefore founded a bodywork and consciousness school. I regularly teach different people and bring them closer to their own truthfulness in a creative way.
Zouk Teacher: Marcello
Marcello is a dance teacher and actor and comes from Rio de Janeiro. He loves working with groups and his classes are characterized by humor, passion and essence. He learned for many years with the Queen of Zouk Renata Pecanha. He teaches Brazilian Zouk and is known for his humorous and charismatic personality and very comfortable and soft dance style.
Kizomba teacher: Judith
discovered her passion for Kizomba in 2018 and was enchanted from the first moment. The variety and different styles of Kizomba as well as the connection that is created between the dancers and also to oneself through Kizomba, make the dance so special for Judith.
When teaching she passes on her passion for Kizomba to the students in a loving and calm way.
Melissa
As a psychologist and embodiment coach I love to accompany deep transformative processes. Through my knowledge of inner work, bodywork and dance, I support people in coming into contact with their feelings and releasing deep-seated blockages so that life energy can flow again and they can live their essence more and more. I enjoy very much the healing energy that arises in high vibrational group settings – and I am very much looking forward to that.
Kizomba Teacher: Shah 
Schon als Kind tanzte Shah gerne. 2013 entdeckte er seine Leidenschaft für Kizomba. Zunächst lernte er bei Tanzlehrer*innen aus Bonn, bevor ihn seine Begeisterung für das Tanzen zu zahlreichen Workshops mit internationalen Dozenten in ganz Europa führte. Ende 2015 bekam er das Angebot zu unterrichten.
In Tanzkreisen ist er für seinen weichen Tanzstil bekannt. Diesen möchte er ebenfalls an seine Schüler weitergeben. So legt er in seinem Unterricht viel Wert auf die Verbindung des Tanzpaares beim Führen und Folgen. Die richtige Technik, insbesondere in Bezug auf die Grundlagen des Tanzes, ist hierbei wesentlich. Shahs Schüler können sich auf Abwechslung freuen. Der sogenannte "Kizombaschirm" beinhaltet die Stile Kizomba, Urban Kiz, Douceur, Tarraxo, Semba, Konpa und Tarraxinha.
Neben dem Fortschritt jedes einzelnen Schülers stehen in Shahs Unterricht der Spaß und die Freude am Tanzen im Vordergrund. So ist jede Stunde wie eine kleine Party!
Next date: 2024 in Bonn
Connection Training + Zouk & Kizomba
Special Early Bird Price for first 10 tickets: 130 Euro
150 Euro Students/low income earners/Max7 and DBD students
99 Euro Connection Training Repeaters
Group Discount: groups of min. 4 people get a 10% discount per person. Email us with the names of the people in the group and we will send you the discount code.
Zouk/Kizomba only (at the door):
Friday: Workshops + Zouk/Kizomba Party: 15 Euro
Party only: 5 Euro
Saturday: Zouk & Kizomba Workshops + Party: 15 Euro
Party only: 7 Euro